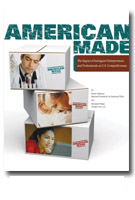 American Made:  The Impact of Immigrant Entrepreneurs and Professionals on U.S. Competitiveness

The National Venture Capital Association (NVCA) commissioned Content First  and the National Foundation for American Policy (NFAP) to develop a study on the economic impact of immigrants on the U.S. economy. Content First created a database of nearly 900 venture backed companies that went public beginning in 1970. The founder(s) nativity for each company was examined to determine the number of foreign born founders among these firms. 

The key findings included that fully 25% of the venture-backed public companies established over 15 years were started by one or more immigrant founders. In the tech sector, that figure rises to 40%. The list of companies included such well-known names as Google, Yahoo, Sun Microsystems, and eBay. The combined market cap of these companies exceeds $500 billion, which standing alone would put it about 17th in world GDP. More than 400,000 jobs have been created worldwide by these companies.